Health Spa Lúčky – Spa Packages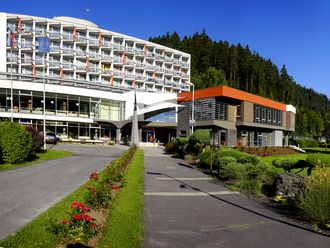 Comprehensive treatment stay CLASSIC focused on the treatment of post-surgery conditions and improvement of overall immunity system. The thermal mineral water of Lúčky has beneficial effects for various diseases and disorders. Its high content of calcium, zinc and manganese is specially suitable for the treatment of ostheoporosis, gynecological diseases and disorders of the musculoskeletal system.
The recommended length of stay is 2-3 weeks.
Spa package includes: accommodation with full board, initial doctor´s consultation, treatment procedures – an individual treatment program based on the guest´s health condition, which includes 3 procedures per day (no procedures on Sunday or bank holidays), one entrance to the pools per day.

Healthy Weekend with 2 or 3 overnights.
Spa package includes: accommodation, full board, initial doctor´s consultation, 3 treatments per stay, 2 or 3 entries to the pool based on the length of the stay, 1 entry to the Vital world for 60 minutes per stay.
We can offer accommodation in the spa hotels which are predominantly in 3* category, spa hotel Choč, spa hotel Kubo, dependance Liptov, dependance Maja, dependance Cyril, dependance Adam, dependance Diana.
We arrange for our clients also transfer from and to the airport. Besides the treatment that the clients get in the spa resort we can organise for them trips, tours or excursions. 
Outdoor pools and Aqua-Vital park, beautiful nature in the surroundings
The staff at the hotels and in the balneotherapy sections speaks different languages, guests from around the world find here their second home as the whole resort is committed to provide services with high professionalism and warm and welcoming attitude.
Feel free to give us a direct call
You can get a quick answer by a quick call