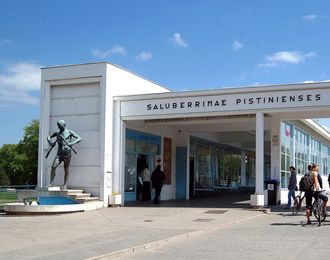 Slovak medical spas offer their guests a wide variety of health treatment. Medical spa resorts were built around natural mineral hot springs. In the eastern part of Slovakia there are medical spas in Bardejov and Vyšné Ružbachy, in the central part there are Turčianske Teplice, Rajecké Teplice, Lúčky, Dudince or Sklené Teplice and in the western part of Slovakia you find Trenčianske Teplice and Piešťany, probably the major Slovak medical spa. The healing climate in the mountains has also a special healing effect on the human body. Mountain spas like Nový Smokovec or Lučivná were built in the High Tatra mountains.
We can book the health spa stay for you. The recommended length of a spa stay is minimum three weeks. If the client wants just to relax and recover from everyday stress he may choose shorter stays with a choice of suitable treatments.We arrange for our customers also transfers from and to the airport.
Our offer includes mainly the health spa stay in Piešťany, Lúčky and Turčianske Teplice.
The above mentioned spa resorts provide different treatment methods like bathing in pools, in baths or even in caves, sulphur mud wraps, mud baths, underwater massages, classical massages, acupuncture, oxygenotherapy and more. In the Slovak spas everyone will find the right thing to help his body and soul.
Feel free to give us a direct call
You can get a quick answer by a quick call